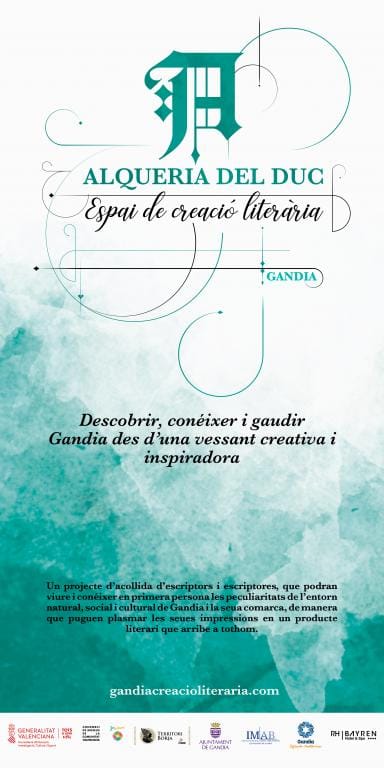 Alqueria del Duc, a Space for Literary Creation in Gandia
In 2018 the Department of Tourism at Gandia City Council embarked on this cultural tourism project with dramatized events and tourism promotion activities. The programme was presented as a series of tourism experiences and products based on the theme of the Borgia family in Gandia and offered an ongoing schedule of guided tours to the Alqueria del Duc building.
Guided tours of L'Alqueria del Duc are available at weekends from 10 am to 2 pm, with no need to book in advance. The dramatized tours allow visitors to explore the building's main rooms and immerse themselves in the most brilliant era of the 15th century. Tours feature leading characters from the Borgia family, including Pope Alexander VI, Lucrècia Borja, María Enríquez and Sant Francesc de Borja. The outside tour shows visitors the building's most prominent architectural features, its historic links with Bayren Castle and with the surrounding area, the Marjal de Gandia wetlands.
The building is the main location of "L'Alqueria del Duc, Espacio de Creación Literaria" (A Space for Literary Creation) in Gandia, a project that began in 2019 to provide a few days' accommodation for writers, allowing them to work on their personal literary projects while they explore our local countryside, our gastronomy and our cultural, social and economic environment. Gandia is now, to all effects and purposes, a literary city, both for the number of writers it has produced and for the awareness, quality and continuity of a literary tradition that stretches back to the 15th century Valencian classics. Writers like Ausiàs March, Joanot Martorell and Joan Roís de Corella left a cultural legacy that has shaped a distinctive and excellent quality contribution to the city's tourism provision and visitor experience. "L'Alqueria del Duc, A Space for Literary Creation" presents a wide range of new literary tourism attractions, a whole world of experiences connected to the region's resources, enabling visitors to discover, explore and enjoy Gandia in a literary, creative and inspiring way.
Guided tours "L'Alqueria del Duc, Espacio de Creación Literaria" (A Space for Literary Creation)
Opening times: Saturdays and Sundays from 10 am to 2 pm.
Includes: Tour of the literary creation room.
Duration: 60 min.
Languages: Spanish and Valenciano.
Price: Free.
Contact: Camí Alqueria Del Duc, s/n, 46730 Gandia. 96 2 87 77 88